Elgato Avea smart light bulb review
Posted by
Hữu Lợi
| 08/10/2015 |
3563
The 7W E27 LED bulbs we looked at for this review produce a peak white brightness of 430 lumens, which is more than bright enough to light a bedroom with a single bulb, but you may want a couple of bulbs to light a living room. You can dim each bulb, although even at the lowest setting we could comfortably read a book - it would have been better if there were more precise dimming levels, as it would help create more effective mood lighting.
Rather than require a dedicated control unit or hub like other smart lighting system, Avea bulbs are controlled individually via Bluetooth Smart. Once you've made your changes, the app disconnects from the bulb, saving your phone battery. The bulbs are currently only compatible with iOS, meaning Android smartphone and tablet owners will effectively be paying £40 for a basic light bulb - at least until the company adds Android support for dimming the bulb and changing colours. You'll need an iPhone 4s or newer, 5th generation iPod Touch or 3rd generation iPad or newer, as Bluetooth smart isn't supported on older devices. Once set up, though, our iPhone detected the bulb in a matter of seconds from across the room.
Avea can cycle through several colour combinations using one of the pre-defined "light scenes", which are inspired by nature and the seasons. You can manually set the colour and brightness to your own personal preference, but there's no way to save those customisations onto the main screen for easy access. It's fiddly, particularly when compared to Hue's easy custom pre-sets. You can at least create groups of bulbs for quickly dimming or changing colours, using the pop-out menu.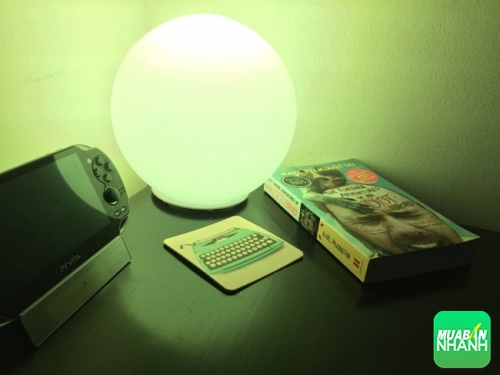 We would have liked to see better integration with iOS 8; Philips has added notification centre widgets to its Hue app, which lets you make changes from the pull-down notification menu rather than forcing you to open the app. Even though Avea uses Bluetooth, adding one button to connect and a second button to switch the lights on and off would be more convenient than opening the app.
We had planned on using the Avea bulb in a bedside table lamp, in order to make the most of its wakeup alarm feature, but unfortunately it makes a high-pitched whine when turned off using the app. The only way to stop the distracting noise is to switch off the power completely, which means you can't use the wake up alarm. Annoyingly Avea is only available as a screw fit bulb, and without an adaptor to fit it in the more commonly used bayonet fitting (at least here in the UK) we weren't able to establish whether it was the bulb or the lamp that was the cause of the noise. More than a few feet away and it's impossible to hear, and even then only people with very sensitive hearing should have any issues - we asked several other people whether they could hear anything and only one said yes.
Arguably these shortcomings can be forgiven based on the low price. You would have to spend £180 on a Philips Hue starter kit, but each Avea bulb only costs £40. That's still around four times the price of a basic LED light bulb, but if you want to add a splash of colour to your room and control it with your smartphone, Avea looks like one of the most affordable options available.
That being said, it's unclear if the company ever plans to add Android support. Right now, it ignores a significant portion of the market, and as customers are unlikely to buy an iOS device purely to change the colour of their lightbulbs, we're unwilling to give it higher marks. Should Avea get Android support at a later date, we'll revisit it and adjust scores accordingly.
See more: http://usready.com/home-appliances.html
Posted by Hữu Lợi
Tags:
appliances
,
bulsb
,
Elgato Avea smart
,
Home
,
Home appliances
,
LED
,
LED bulbs
,
smart light bulbs
,
smart lighting system