Tefal Cuisine Companion review
Posted by
Hữu Lợi
| 09/10/2015 |
4293
The Tefal Cuisine Companion is a difficult product to describe. Tefal describes it as "a cooking-capable food processor and more" that "replaces up to ten appliances in the kitchen and is perfect for chopping, whipping, mixing, kneading, cooking, steaming, blending, stirring, emulsifying, whisking, searing, crushing, milling and precise heating".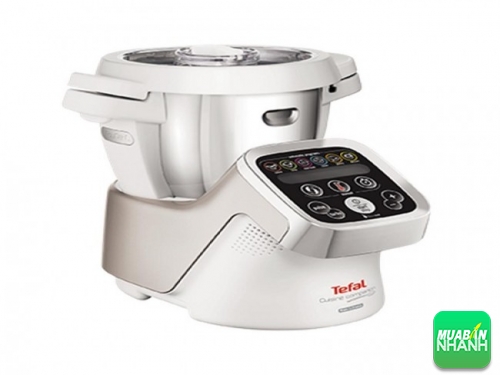 Salmon mousse, lasagna and custard for me, please
In order to help you make such a variety of dishes, the one-pot machine comes with four different tools: the Ultrablade knife, the whisk, the mixer and the kneading and grinding tool. There's also a steaming basket. Meanwhile, the front of the machine has an LCD display and a set of clear touch controls for preset programs such as slow cook, soup, steam and pastry. There are also buttons to let you set tool speed, cooking temperature and time manually, for tweaking existing recipes or for when you feel brave enough to branch out on your own and cook your own creations.
Each recipe in the supplied book makes it clear which tools and programs you need from the outset, and how long a recipe will take from start to finish. Most recipes consist of two to three stages. For example, you might chop up onions and garlic with the Ultrablade tool, then replace the blade with the mixer, soften the onion and garlic mix for a few minutes in olive oil before adding meat, carrots, chopped tomatoes and oregano and cooking for half an hour (a rough approximation of the supplied bolognaise recipe).
The beauty of the recipes is how efficient they make the cooking process. You normally only have to spend a few minutes preparing ingredients before you start cooking, and the first cooking stage gives you time to prepare your ingredients for the next. As everything is automated, you don't have to worry about keeping an eye on your softening onions, for example, as they are constantly stirred by the machine and won't burn.
It's really quite liberating not to have to watch your food like a hawk. When making a casserole, such as Basque Chicken, for example, once you've added the chicken to other ingredients you just press a button and walk away. Come back 45 minutes later and you have a cooked one-pot dish. The same is true of custard. Stick four egg yolks in the bowl with some sugar, mix for one minute and add milk and vanilla essence after 30 seconds. Then launch the dessert program and come back 12 minutes later for some beautiful, consistent, lump-free custard. Custard normally requires absolute vigilance at the pan to stop it turning into scrambled egg. Likewise, shortcrust pastry took five minutes at most and I didn't even get flour on my hands.
Everything you need to make Basque Chicken
However, the machine does have some limitations. The recipe book has some odd terminology, and I wonder if it has been properly adapted for the UK market. For instance, you often need 50ml of olive oil. Most English recipes would call for three tablespoons (45ml approx) instead. Likewise, I was stumped by "crushed tomatoes", and so used chopped tomatoes instead. Another minor complaint is that the lid tends to collect steam between its two layers, which then condenses and dribbles out everywhere when you remove it and tilt it slightly.
A bigger problem is that the recipe book sometimes tries to make the Cuisine Companion out to be more capable than it is. The machine is fantastic for making one-pot meals such as casseroles, as well as pastry, custard, mayonnaise and soup, but shouldn't be confused for an all-in-one wonder machine that can prepare all your meals. A large number of the recipes in the supplied book require an oven and other kitchen equipment and, although the book gives you many dessert recipes, the role of the machine is often limited to making pastry.
The clue is in the name: this is a Cuisine Companion, not a RoboRickStein. It's a fantastically useful device to have in the kitchen to handle certain tasks while you're busy with other parts of your meal. It would also be a great way for someone short of time and space to make relatively healthy meals from fresh ingredients; as long as they were fond of soups and casseroles.
However, the biggest sticking point is the price. The machine is beautifully designed and feels well made but, even though it does the job of at least three kitchen appliances, it's still a huge amount of money. If you're a keen wealthy cook or a rich young professional in a tiny flat you'll no doubt love it, but we wish it was at the very least £200 cheaper.
See more: https://usready.com/home-appliances.html
Posted by Hữu Lợi
Tags:
appliances
,
blending
,
chopping
,
cooking
,
crushing
,
emulsifying
,
Home
,
Home appliances
,
kneading
,
milling
,
mixing
,
precise heating
,
searing
,
steaming
,
stirring
,
whipping
,
whisking