Don't Make These 7 Mistakes in Your Ecommerce Business
Posted by
Hữu Lợi
| 08/10/2015 |
3635
Building an online business can be difficult, especially if it's your first time. However, just because it's your first time doesn't mean you need to make first-timer mistakes. There's a famous quote that says "Only a fool learns from his own mistakes. The wise man learns from the mistakes of others."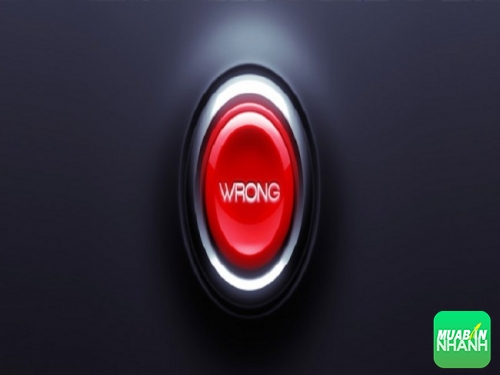 1. "If You Build It They Will Come" Mentality
They won't. Building your business (and traffic) takes time, energy and effort. According to Internet Live Stats, the internet has about 1,202,012,086 websites at this very moment, and according to WorldWideWebSize there are 4.44 billion pages. Take a moment to think about that. When you create your store, you will be website number 1,202,012,087. How are people going to find you?
Building the most beautiful site and filling it with great products won't make customers come. When you start a business, you have to realize that launching your store is just the first step in a great journey to building your business. There are however many steps that come after launch.
2. No Logo
A logo is usually the first thing a visitor sees and one of the first impressions of your online store. Most if not all ecommerce platforms will display your shop title in standard text if you don't upload a logo yourself, but this isn't good enough.
So why do so many people launch stores with no logos?
Usually it's because most people still think that in order to get a logo made, they need to find a designer and spend hundreds (or thousands) of dollars. The fact is though, this isn't true. Far from it. There are so many options available now for creating a free or very inexpensive logo that there's no reason your shop should be using a default text logo.
3. No Social Proof and Forcing Social Proof
We all know that social proof can help with conversions. It's not for lack of trying that many new merchants are failing at this though. Most of the time, the social proof is being implemented wrong or it's forced.
Let's take a look at several ways you can implement social proof wrong and why it does more harm than good:
Reviews. What Reviews?
We often tout that adding reviews to your online store is a great thing and can help conversions. While reviews can definitely lead to increased conversions, if implemented at the wrong time, they may also do the exact opposite.
When you're first starting out, you probably want to consider holding off on adding a product review section to every product page until you have some customers that you can ask for reviews from. This is especially important if you have a larger catalogue of products.
As a visitor, looking at a store or a product page that has a reviews app with no reviews can be a cause for concern. Why are there no review? Has anyone purchased this product before? This acts in the exact opposite of social proof causing customers to question if they should purchase from you.
Much like the reviews, many online shoppers use social media as a trust indicator when purchasing from a store for the first time. You can be on every single social network but if you have no followers and engagement, it may end up doing more harm than good.
So what's the solution? Instead of prominently displaying all of the wonderful social networks you're part of, start with one and work on building up a decent following. As you begin to build it, you can add and display new social networks. This will also give you some focus and allow you to better explore the potential benefits of each channel rather than scattering yourself and efforts.
4. No Proper About or Contact Page
A lot of store owners end up underestimating the sales potential of their About page. Have a look at your own analytics and you'll likely find your About page is either the second most visited page or in the top three. That means this page is important to visitors.
Even though this is one of the most important pages for your visitors, many new online merchants tend to skimp on this page. Don't.
Let's look at some of the biggest mistakes people make on their About and Contact pages:
No Story - Who exactly are you? How did your store come to be? What's the story of your products? How are they made? You don't need to create an elaborate story, however, a few paragraphs that store visitors can relate to are hugely beneficial.
No Location Details - Yes, you're an online store, but that doesn't mean people don't look for an address. Many visitors still want to know where you're located and where your products ship from. For many visitors, it's just an issue of trust, for others they want to know if they need to consider customs and duties if your products ship from another country.
Using A Generic Email Address - Yes, Gmail is great but that's not going to cut it for your business. So many first time merchants are guilty of using a generic, throwaway email address. What does that say to customers? Take the time to set up a proper domain name (youbrandname.com) and set up proper email addresses to let your customers know you're in it for the long haul.
5. Not Actually Thinking About Overall SEO Strategy
Probably the most common problem with new online stores is not doing any SEO or not doing it properly. It's not rocket science but it's not easy either. Coupled with the fact that SEO can take a while to show any signs of success and it ends up being a complete afterthought (if even a thought at all) for most new online businesses.
The thing is, SEO is quite necessary and can be one of your most powerful tools as it can continue to bring in targeted traffic to your site, day after day after day. Unlike channels like Facebook and Google Adwords which stop delivering traffic the second you stop paying.
Can you list the top 10 keywords you're trying to target in the long term right now? If you can't, it's time to actually think about your SEO and keyword strategy.
6. Focusing On Too Many Things
Business is hard and complicated. Imagine a brain surgeon doing multiple surgeries at one time. It would be disaster! The same holds true for building a business. Sure someone's life isn't on the line, but the life of your business likely is.
All too often, entrepreneurs get scattered, chasing their tails, the next shiny app or growth hacking tactic instead of finishing that they started. This leads to a scattered approach that will rarely show positive results for the business.
In a previous post we discussed the importance of focus for your ecommerce business. Focusing on too many channels taxes your energy and will rarely produce the desired outcome. Focus on one task at a time, one channel at a time and one goal at a time.
7. Not Giving Each Marketing Channel a Fair Shot
Finally, one of the most common mistakes new ecommerce entrepreneurs and veterans alike make is not dedicating enough time, energy and money to each marketing channel. Along with being one of the most common mistakes, this also can be the biggest mistake for your store.
There are many ways to get traffic for your store. There's literally hundreds of marketing channels, however, none are something you can flick a switch for.
Whether it's search engine optimization, search engine marketing, Facebook Ads, Instagram marketing or influencer outreach, they are require a really solid effort and sometimes money. Spending $50 on Facebook ads and not getting any sales doesn't mean the channel doesn't work and you should give up on it. It may just take more money to find the right audience that will respond best or changing the ad design and copy to something that speaks to your audience better. It really does take some time and patience to figure each channel out.
When building an online business, prioritize and tackle one channel at a time. This means strategically choosing the channels that you believe will work best for your business and taking the time to understand the inner workings of that particular channel, strategically planning your attack, giving the channel enough time and money to prove itself and tracking the results carefully.
Conclusion
Building a business is hard work, however, no matter how much work you put in, the small details as outlined in this post can sabotage your efforts and hard work.
Make sure you regularly take some time to take an objective look at your store, your marketing channels and your goals to make sure you're on the right path and you'll be well on your way to more traffic and sales for your online store.
See more: http://usready.com/how-to-sell-online.html
Posted by Hữu Lợi
Tags:
business
,
ecommerce
,
ecommerce business
,
how to sell online
,
Logo
,
marketing
,
Mentality
,
online
,
SEO
,
Your Ecommerce Business