12 Things You Can Do for Your Small Business While Watching Netflix
Posted by
Hữu Lợi
| 09/10/2015 |
3824
12 Things You Can Do for Your Small Business While Watching Netflix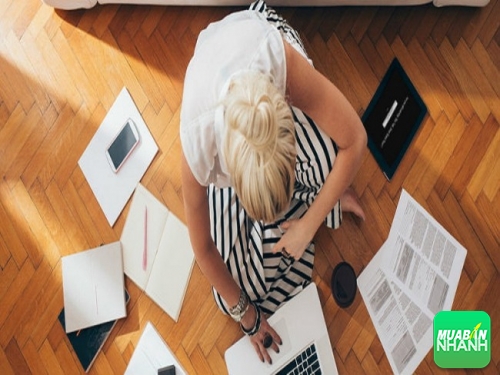 1. Schedule your social media posts with a tool like Buffer [30min-1hr]
Unless you've quit your day job and dedicated your life to managing a small business, you're probably too busy to Tweet or share on Facebook regularly. Tools like Buffer can help you schedule your updates so they post automatically throughout the week.
2. Use IFTTT to post your Instagram photos as Twitter photos [5min]
Yes, you can already (sort of) do this by linking your Twitter account to your Instagram app, but those Tweets only show up as links, not full images. To make your Instagram photos truly stand out in your followers' Twitter timelines, use this recipe in IFTTT. Check out our post about IFTTT to learn more.
3. Build a Tumblr page by re-posting your Instagram photos and likes with IFTTT [5 min]
Marketing with Tumblr is a lot like marketing with Instagram; you should wow people with your images and attract a loyal following who'll not only purchase your products, but become evangelists for your brand.
These two recipes will help cross-post your Instagram posts, plus any Instagram photos you've liked, to your Tumblr account. You'll probably be scrolling through Instagram anyway, so why not make it productive?
Improve Your Product Pages
A great product page needs more than one line of copy and a decent smartphone photo. Sprucing up your images and product descriptions is a lot easier than you might expect. Here are a few ways to get started.
4. Learn how to write better product descriptions and re-write a few of your own [1-2hrs]
Remember, product descriptions are supposed to sell your product, not simply describe its characteristics. It's easy to talk about a product's colour or use, but dig a little deeper and figure out how it can really help your ideal buyer. Try re-writing a few in between episodes - your visitors will thank you for it.
5. Optimize your product images for SEO and faster loading [1-2hrs]
Since it can't physically see the images we upload, Google relies on filenames and ALT tags to determine what they are. Go through your website images and start renaming your vaguely named images to something more relevant. Your ALT tags should match, too. Learn how to do this, and decrease your images' file sizes, on our image optimization blog post.
6. Read up on, and apply, the key principles of psychological pricing [1hr]
Don't worry - it sounds more complicated than it really is. We examined a few successful companies' pricing strategies and discovered what makes them so effective. Once you learn what they've been doing, you can start applying those same principles to your own business. Give it a try!
Upgrade Your Online Store
There's a lot you can do to freshen up your online store or add new, time-saving functionality to your backend. Knock out these three tips during your next Firefly binge to take your business to the next level.
7. Browse helpful plug-ins on the App Store [30min-1hr]
If you haven't already gone through the App Store, now's your chance. There's no shortage of free apps designed to make your life easier as a business owner, so poke around and add a few to your store.
8. Get a professional domain name for your business [30min]
Provides merchants with a free domain, but you also have the option to buy and use your own. There's a certain amount of credibility and professionalism that comes with your own .com address, so if yours is available, get it.
9. Create (or improve) your "About" page [1hr-2hr]
These days, customers want to know more about who they're buying from, and it's your job to tell them. Thankfully, it's a pretty simple job (here's some inspiration).
Get a Quick Jolt of Inspiration
Can't find something to do? Get inspired by successful merchants, beautiful design, and the world's most prominent business people. Keep those juices flowing!
10. Read the latest Success Stories [1hr]
Don't think someone can truly succeed in your niche? Think again. Read a few Success Stories from entrepreneurs in your industry to pick up a few quick tips or helpful insight.
11. Get inspired by some of our best-looking stores [15min]
If you're running your online store with, odds are that it already looks pretty darn good. However, there's always room for improvement! Get inspired by our list of 30 beautiful and creative ecommerce website designs.
12. Get inspired by real business leaders [10min]
We compiled our 8 favorite customer service quotes from some of history's most successful entrepreneurs. If these don't get you off the couch, nothing will.
See more: https://usready.com/how-to-sell-online.html
Posted by Hữu Lợi
Tags:
12 Things You Can Do for Your Small Business
,
business
,
how to sell online
,
Instagram
,
Instagram photos
,
marketing
,
online
,
photos
,
SEO
,
Small Business
,
social media
,
Tumblr
,
Twitter