US READY - The American's No1 Manufacturer of Rhythm exercise machine
Posted by
Uyên Vũ
| 23/03/2016 |
3511
The rhythm exercise machine is another exercise equipment ideal for losing weight. Rhythm exercise machines have great calorie burning potential because they exercise larger muscle groups of both the upper and lower body regions. The help tone the thighs and buttocks, firm up the arms and all the back muscles together. Another positive point about the rowing machine is the ability for the user to create a rhythmic style while exercising. This technique really helps the body "switch" into that and after abou
Losing Weight with a Rhythm exercise machines
Losing Weight with a Rhythm exercise machines
Benefits of rowing for losing weight
home use
great fat burning potential
good overall calorie burning
great for building fitness
ideal for people new to exercise
ideal if bad weather means no other activities available
watch TV or listen to music during a workout
no pressure to knees and ankles so low injury risk
helps develop a little leg strength & tone
air/fan assisted rowing machines help cool down skin while working out
Because rowing machines can benefit with burning lots of calories it means less workout time is needed for every session than say using an stationary exercise bike to lose weight, which only tends to exercise the lower regions over a shorter range of motion. This will save the dieter valuable time rather than exercising on a stationary bike for 40 minutes you should be able to comfortably burn the same number of calories with rowing for about 25 minutes, although remember the number of calories burned really depends on how a person exercises as well as their body make up. A rowing machine has many benefits over many other exercise equipment and I personally believe it is one of the best exercises for losing weight!
Negative sides of using a rowing machine for losing weight
may become boring after a few workouts
aerobic type of exercise so less chance of boosting overall metabolism rate
can be expensive if on a budget
some are noisy
Choosing a Rhythm exercise machine
With so many different Rhythm exercise machine available on the market it can be a challenging to find the best rower to suit individual budgets and requirements. There are some rowing machines that come with various difficulty settings which allows you to train that little harder if you want to go for fitness gains. Many modern rowers also have digital displays that can show heart rate, estimation of calories burned and the distance travelled. Some can be folded away for easy storage however the more features often equals a greater price. Decide what you want to get from your workouts before choosing a rowing machine for losing weight. Remember that using a rower alone wont be the only way to lose weight, it may be best to use various forms of exercise to maintain motivation levels and keep up weight loss progress.
Choosing and Using Rhythm exercise Equipment
Home exercise equipment is a huge industry, and the buyer's choices are vast. If you are among those searching for the right piece of equipment, consider some of the pointers below.
Before you buy, ask yourself:
Will I use the equipment regularly? Perhaps the most critical issue is your commitment. Be prepared for buyer letdown.
Will the piece help me meet my goals' Disregard false claims, like those that say abdominal exercise machines melt flab from your waistline. Also, be wary of hype regarding calorie burning. A reasonably fit person can burn about 400 to 600 calories per hour in rhythmic exercise that involves major muscle groups (especially the legs).
Is the equipment well made? It's hard to tell from just looking. Wear your workout gear to the store and put the machine through its paces. It should feel solid and durable.
Is it comfortable? A machine can be well made but still feel awkward. During your in-store workout, pay attention to how your lower back, joints, and muscles feel. A seat should stay comfortable during a long exercise session. Bars or pull-handles should be padded and feel comfortable, even after many minutes. Also, note things like noise level and ease of using the controls.
What type is best? Test each type of exercise device and choose the one that feels best. Some equipment works both the arms and legs, which burns more calories but may not feel right to you. Walking on a treadmill can be just as good if you add a few dumbbell exercises.
Do I have room for it? Having to store the equipment, or worse, having to disassemble it, will be a deterrent. Also, exercise equipment can be noisy and bother people nearby.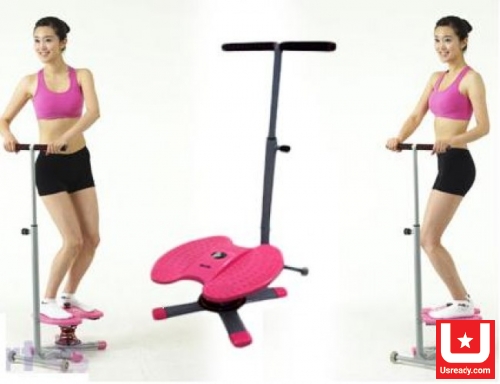 Choosing and Using Rhythm exercise Equipment
What's the best deal? Expect to spend at least a few hundred dollars or be disappointed. Nonmotorized treadmills, for example, are inexpensive but may be clunky to use. But spending several thousand dollars is not necessary. Some machines cost more because they measure heart rate, calories burned, time elapsed, etc. These are nice features, but not absolutely necessary for most people. Programmable machines that can automatically adjust the workload may not be worth the price, since manual controls, if accessible, work just as well. [Tip from Quackwatch: Try to buy from a seller who offers a 30-day money-back guarantee.
Here's the scoop on each piece:
Why buy? You can walk, jog, or run on a treadmill. Walking stresses the joints least, but jogging and running will burn more calories per minute.
Choosing it. The treadmill surface can be hard. If you plan to run or jog, investing in a surface with more give is worth it. Other pointers:
An inclined, motorized track is an important option because walking briskly uphill can provide the same intensity as jogging. A 1.25- to 1.5-horsepower motor is best.
If you plan to walk only, you can get by with a narrower and shorter treadmill belt, but it should still be at least 5 feet long.
Make sure the handrails can support your weight should you lose your balance.
Some treadmills come with resistance levers for upper-body exercise. But they may feel awkward during a long workout.
Using it. Holding the handrails reduces the workout intensity. Once you have mastered the technique, keep your hands off the rails whenever possible. When walking or running on a slant, maintaining good posture with only a slight bend at the waist is best for your back.
Why buy? Exercise bikes provide fairly intense workouts with little stress to the knees. They also tend to be relatively inexpensive.
Choosing it. Bikes that have electronic brakes adjust pedal resistance automatically to keep the workload constant as pedaling speed changes. With mechanical brakes, the work rate increases as pedaling speed increases. Thus, you can make the workout harder by either adjusting a resistance knob or pedaling faster.
For a mechanically braked bike, make sure you can easily adjust resistance with just the twist of a knob. Avoid bikes that add resistance with rubber pincers that grip the wheel, because the result is often a jerky ride. Look instead for bikes that use either a friction belt or wind resistance. Other considerations:
A recumbent (reclining) design reduces strain on the low back.
Some models offer arm cranking. Arm-plus-leg exercise burns more calories and causes less fatigue per calorie burned.
Racing handle bars, which require bending forward quite a bit, may feel uncomfortable for casual bikers.
Using it. For highest efficiency:
Position handlebars comfortably.
Set the seat height so that your knee is bent only slightly with the pedal at its lowest point.
Use pedal clips, which allow your legs to pull as well as push the pedals.
Why buy? Although rowing may appear to work mostly the upper body, a proper rowing stroke gets 75% of its force from the legs. Rowing, though, is often perceived as the most boring of indoor exercises- perhaps because it requires an unfamiliar movement, or because it's difficult to row and watch TV or read. Whatever the reason, consider this concern before you buy.
Choosing it. There are two basic types of nonelectric rowers:: hydraulic and wind resistance. The latter offers a more natural feel, as do electric rowers. Choose a rower with a seat that moves back and forth freely, and that has uniform resistance throughout the rowing motion.
Using it. Sit upright to avoid back strain, and don't overarch your back as you complete each stroke. Keep your elbows close to your body when pulling
Cross-country ski machine
Why buy? The cross-country skiing action engages the upper- and lower-body muscles more vigorously than any other exercise machine. This generally means more calories burned per minute, especially when the front of the machine is raised to mimic uphill skiing. Also, impact forces to the body are low.
Choosing it. Buy a skier that allows separate adjustments for upper- and lower-body resistance.
Using it. Learning to coordinate movements takes time, but most people should be able to master the technique.
Why buy? You can get an intense workout without exposing your legs to severe impact forces.
Choosing it. Some models have linked pedals in which pressing down on one forces the other one up. Unlinked models provide a more natural rhythm.
Using it. Stepping height ranges from about 2 to 18 inches. Keep the pedals in the midrange without touching the floor. Other tips:
Stand upright for back-friendly climbing, and keep your knees over your feet.
Keep your feet flat on the pedals to reduce stress on your Achilles tendon at the back of your ankle and heel
Hold the handrails lightly for balance to get the best workout.
Why buy? This hybrid provides a combination of rowing and leg pressing movements, offering a workout for the whole body. The average person should get a good workout on the rider, but highly fit people probably won't get a high-intensity ride. Also, like the rower, the exercise rider can be boring.
Using it. To avoid knee stress, don't bend your knees more than 90° at the bottom phase of the motion. And when pulling, straighten to an erect position. Avoid arching your back.
Remember: This information is not intended as a substitute for medical treatment Before starting an exercise program, consult a physician.
>> See more: US Ready
How to Use a Treadmill - Rhythm exercise machine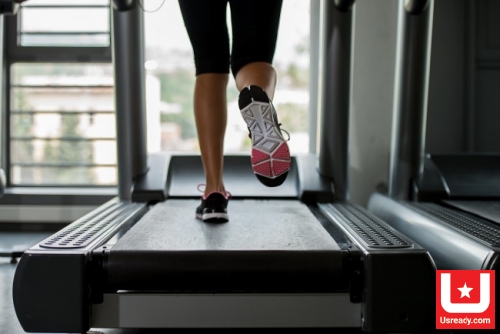 How to Use a Treadmill - Rhythm exercise machine
Find a convenient treadmill near you.
Not everyone enjoys treadmills, or gets the results they want, so don't buy one until you are sure you want one, as they can be a large investment.
Decide why you are using a treadmill
Do you want to burn fat, strengthen your heart, muscles and lungs,or both?
Follow the instructions on the machine to start it
You can choose one of the preset exercises, or you can personalize your workout to your own liking. Manual model allows you to select your own choices of inclination and speed.
Set a realistic yet challenging time limit, and hold yourself to it.
To burn fat, jog at a moderate intensity; to improve your cardiovascular fitness and gain stamina, run at intervals between high intensity and a lower intensity.
Quality is more important than quantity for cardiovascular fitness (basically it's more valuable to train harder for somewhat shorter periods of time).
To evaluate your progress, most modern treadmills also have Fitness Test options that measures your heart beat and other factors and provides you with a score.
Tips
Don't worry about what the person next to you is doing, and don't feel discouraged if everyone seems to be going faster than you. Everyone is at a different level of fitness and everyone has to start somewhere.
Listen to your favorite music or make a deal with yourself that you can only watch your favorite show (DVD box sets work great here) while you are on your treadmill.
Don't put the treadmill in "that dark back bedroom" that you hate to go into (or--if you must--clean it, paint it and let in some light...and a TV/stereo!).
To burn even more calories and get some variation in your routine, alter the incline settings every 2 minutes to go up 3%. For example 0:00=1%, 2:00=3% 4:00=6%, etc... Keep going until you get to around 12-15% and hold it until you feel ready to come back down. Then repeat the sequence coming down in percentage. Presto! Instant hill.
Try varying your exercise program (treadmills can get boring).
Don't do it every day. You'll be sure to lose interest and it won't make working out a fun thing to do. Do it every other day or 3 times a week.
Warnings
Make sure the treadmill is off or moving at a very slow speed before you step on.
Take it slow! Begin with easy exercises 3 times a week, and work your way up. If you try too hard you may strain a muscle or feel otherwise discouraged from "too much too soon".
Consult your doctor before beginning any exercise program.If you feel dizzy, lightheaded or out of breath while exercising, stop immediately.
Posted by Uyên Vũ
Tags:
Cross-country ski machine
,
Exercise rider
,
Losing Weight
,
Rhythm exercise machine
,
Rowing machine
,
Stair-Climbing Machine
,
The American's No1 Manufacturer
,
US READY